Over the past year and a half, I've been busy learning about all kinds of ways to generate leads and convert sales on-line, and it's amazing how much really goes into it. Nothing worthwhile ever comes easy in life. A blog seems so simple, and it is, until you want to make money doing it. I thought, I'll just put some keywords and when people search, they'll find my blog and want to buy my product, but now, after learning what it takes, it's takes more than that. The good thing is that once it's created, it's done and will generate on-going revenue, but in the beginning, it takes some work.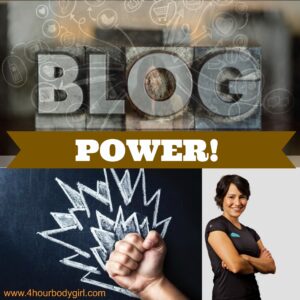 If you want to work from anywhere and have your own flexible hours, it can be done, but this is what it takes…
A passion for something. Mine is Health and Business. What's Yours?
A product or 2, or 5! This has been the hardest part for me to figure out. Either I have to become an affiliate for someone else's' product or I have to make my own. If I use someone else's' product, I only get a (usually small) commission, if I make my own, it takes a lot of time. So I'm in the process of doing both. I will create marketing packages and have a 12 week, online marketing course and I'm thinking of calling it "Build A Health Business Empire" that covers everything thing you need to do to generate leads and close sales, among other things. I'm also thinking of starting a membership site called "Health Blogger Champ". If you already have a product or service that you want to market, you are way ahead of the game. There's not too much point in spending time and energy generating leads and driving traffic, if you don't have anything to sell.
Creating a customer persona. It's basically a detailed target market analysis. In order to create a strategy, and content, we need to know exactly who we are speaking to. If you're speaking to everybody, you're speaking to nobody. If you'd like a FREE template to create one for your website/blog click HERE.
A strategy. This has been another challenging thing for me. Not because I don't know what to do, but because I know so many different ways to go about this, that I can't seem to narrow it down for my own business. It's like taking a look at yourself vs. someone seeing it from the outside. Aren't you always so great at giving other people great advice but have such a hard time following your own? That's what I feel like is happening to me. In order to not be held back by this, I have recently outsourced it and will collaborate with another marketing expert to get it done. It is so important to plan, I need the outside perspective. I've shared my goals with them and what I want the outcome to be and we will put a strategy together for www.4hourbodygirl.com.
Creating an editorial calendar. The editorial calendar is crucial. I heard Lady Gaga plans her marketing and outfits out on a calendar 1 year in advance. That's pretty amazing. I be starting with  a 1 month editorial calendar.
I've been busy putting together job descriptions for a Blog Manager, a Social Media Specialist and an Editor to get the ball rolling on the strategy and editorial calendar. I'll be having them create special, optimized content, and working all of the social platforms for my first client! Yup! You heard that right! I already have my first client.
Those are only the first 6 steps of what it takes to generate leads for your business. I'll be sharing more details and pretty much everything you'll need to know on www.fourhourbodygirl.com if you're interested in learning more about how to grow your business, generate leads, and convert sales through the latest on-line marketing strategies and social media strategies so you too can work from anywhere on your own time.
Would love to hear your feedback in the comments below.